Wednesday, January 19 2011, 7:16am EDT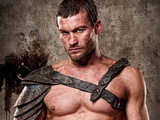 Spartacus: Blood and Sand
creator Steven S. DeKnight has dropped hints about the show's second season.
He told
TV Guide
that the new thirteen-part run will be "a hell of a ride".
"The only juice I'll give you is that it's extra sweet," he teased. "We're actually about halfway through figuring out [the season]."
DeKnight added that he will be "deeply saddened" to enter production on the season
without
original star Andy Whitfield.
"He was a huge part of the show's success," he said. "We wish him the best and a speedy recovery."
He further explained that Whitfield's
replacement
Liam McIntyre had been found after "an exhaustive search".
"[We needed] somebody not to replace Andy but to step into the role of Spartacus," he explained. "We feel very fortunate that we were able to find Liam, who we felt really embodied everything we were looking for in the character looking forward."
Production on the next season of
Spartacus: Blood and Sand
is expected to begin this spring.